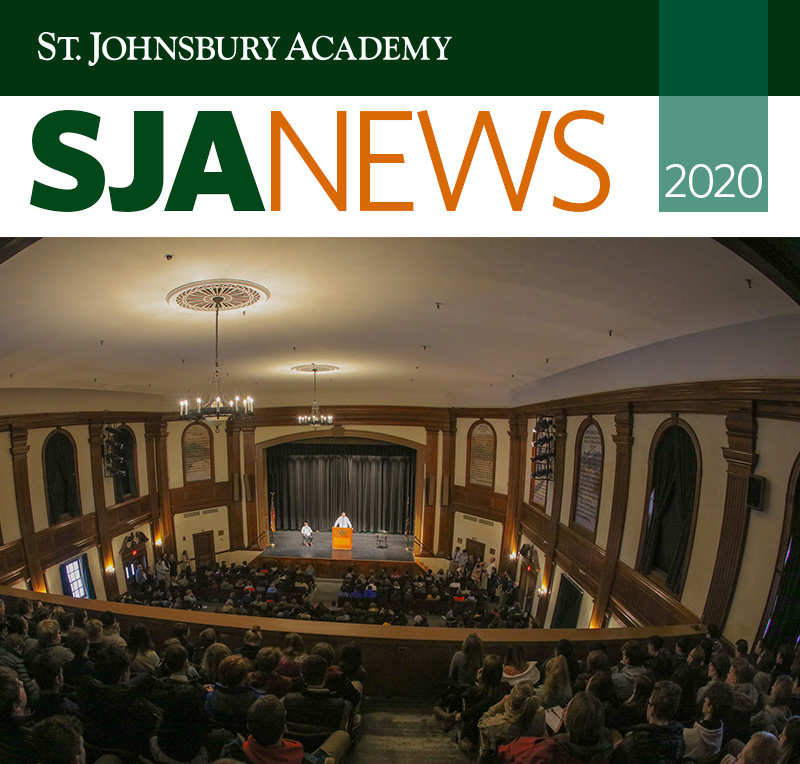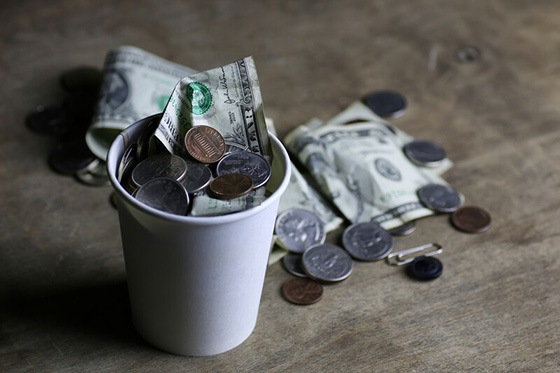 Taking Detours in Becoming Human
We were making good time traveling down a California highway, especially since it was rush hour. Assistant Head for Advancement Tammi Cady and I were making a short trip to a rehabilitation facility to see an alumnus who had been incapacitated by a massive stroke at the age of 50, and we seemed to have timed the trip perfectly as traffic was flowing smoothly despite its mid-morning volume—that is, until we got off the highway and made our way around the exit ramp. There, parked in the middle of the ramp, was a small red sedan, and traffic quickly backed up behind it.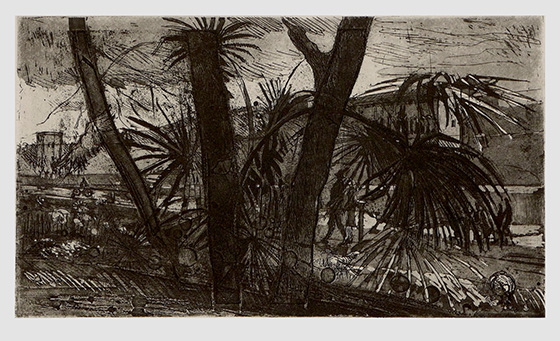 St. Johnsbury Academy Artists
Exhibiting in Florence, Italy
Bill and Kim Darling, the printmaker-owners of Gatto Nero Press in St. Johnsbury, Vermont will exhibit their fine art intaglio prints at the gallery of Fondazione "Il Bisonte" in Florence Italy from February 19 through February 28, 2020.
Read more

Monday Chapels begin at 9:20. Please see the bell schedule for details.
Weekend trips for Boarding Students can be viewed here.
Wednesday, January 29
The Hilltopper Restaurant opens for the second semester. Call 748-8965 for reservations. View the Mediterranean menu here.
Thursday, January 30
Meet the Teachers Night, Fuller Hall, 6:30 PM
Monday, February 3
Deadline for submissions to the Clear River Review. For more information, click here.
Thursday, February 20
Winter Carnival begins.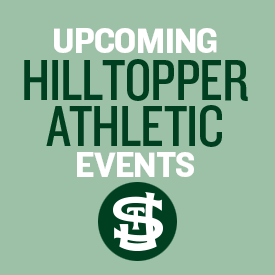 Hilltopper Athletics
Winter Sports Schedule - Go Hilltoppers!
Follow the Hilltoppers Live on NSN Sports.
Missed a game? Check out the Past Games.
Fans of St. Johnsbury Academy can now watch the Hilltoppers on their television as Northeast Sports Network broadcasts are available on a number of streaming services.
All games streaming on NSN can be viewed live using Apple TV, Roku, Amazon Fire, Android TV, and YouTube TV. You can still stream games on the internet also.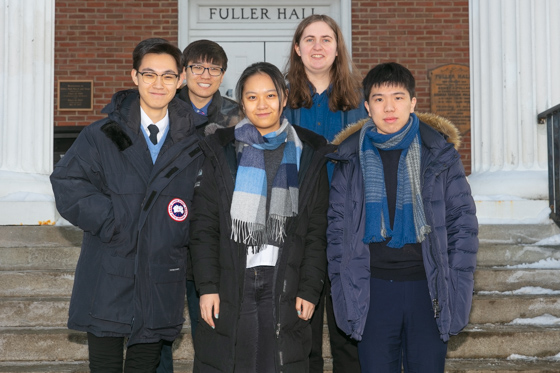 The Multivariable and AP Calculus students competed in round one of the national Continental Math League Calculus competition in December. The students are currently tied with three other schools for second place. An Ziang, Sung Woo Jang, Han Zeng, Emma Keenan, and Yu Fan Hu had perfect scores in round one.
Congratulations to junior Kat Mayhew. She will compete at the state semi-finals of Poetry Out Loud at the Barre Opera House in March. To view the poems of each of the school's finalists, click here.
To view photos from Saturday's gymnastics meet, click here.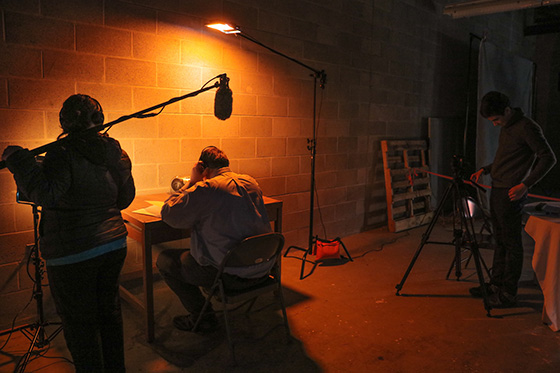 Mr. Shea's Film II students are busy writing, acting, shooting and editing short films in their class.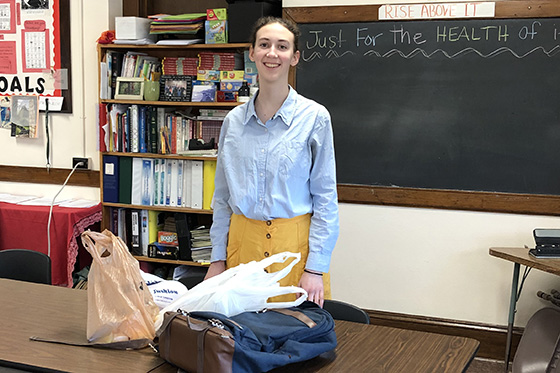 Freshman Theodora Montague worked with DCF to help alleviate their need for supplies for children entering foster care. Theodora challenged the freshman class to help with this need and together they provided twenty children with overnight supply bags. The freshman class also added to DCF's supply cabinet, providing lots of extra toothbrushes, shampoo, deodorant, etc. for future children.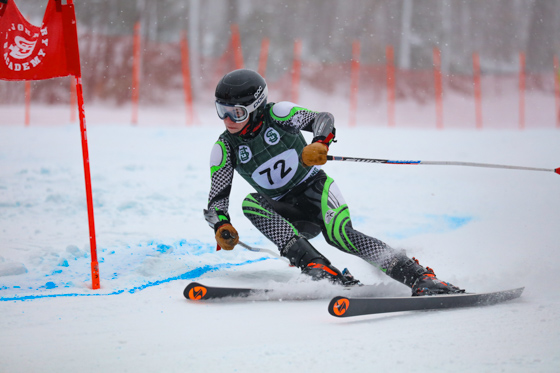 Photos from yesterday's ski race can be viewed here.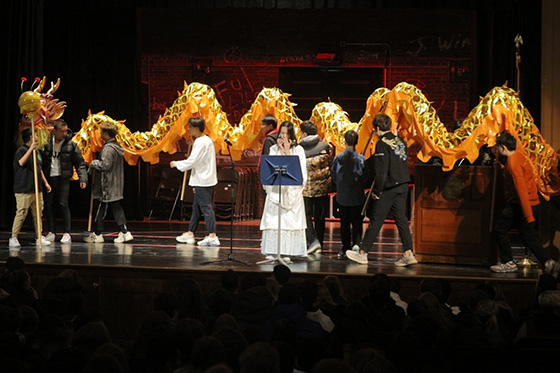 On Friday our community had the chance to celebrate with our students from China as they prepared to welcome in the new year. Photos and a complete video of the Chapel performance can be viewed here.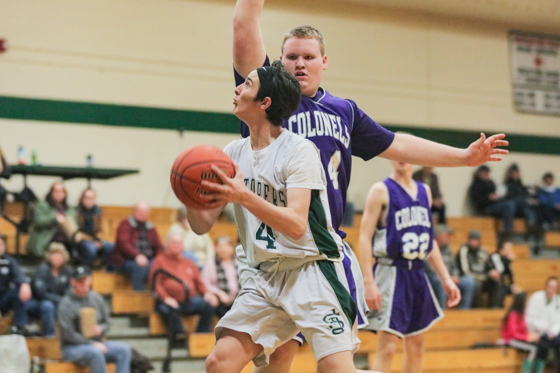 Photos from last week's JV Basketball game can be viewed here.
Photos from last week's Varsity Basketball game can be viewed here.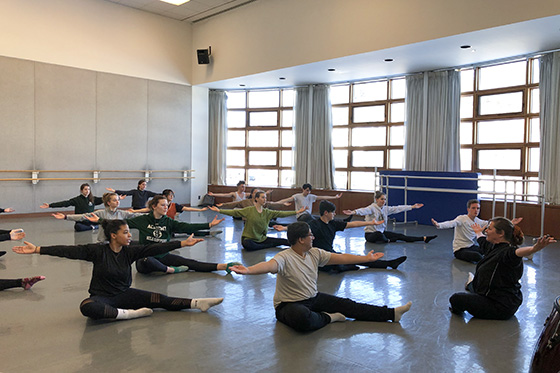 Twenty students from the first semester Modern Dance class recently participated in a private Martha Graham master class under the direction of Denise Vale, Martha Graham Dance Company Senior Artistic Associate and Rehearsal Director. The class was arranged exclusively for SJA with special permission by the Martha Graham Dance Company and the Hopkins Center at Dartmouth College. Ms. Vale offered the class to the dancers trained by Marianne Handy Hraibi, dance instructor at SJA, because she knew they were equipped to participate in a real Graham class. The dancers were trained in the language of the Martha Graham Technique and equipped to perform exercises that focus on movement logic specific to Martha Graham. St Johnsbury Academy drummer, Elijah Winters, accompanied the class for Ms. Vale.