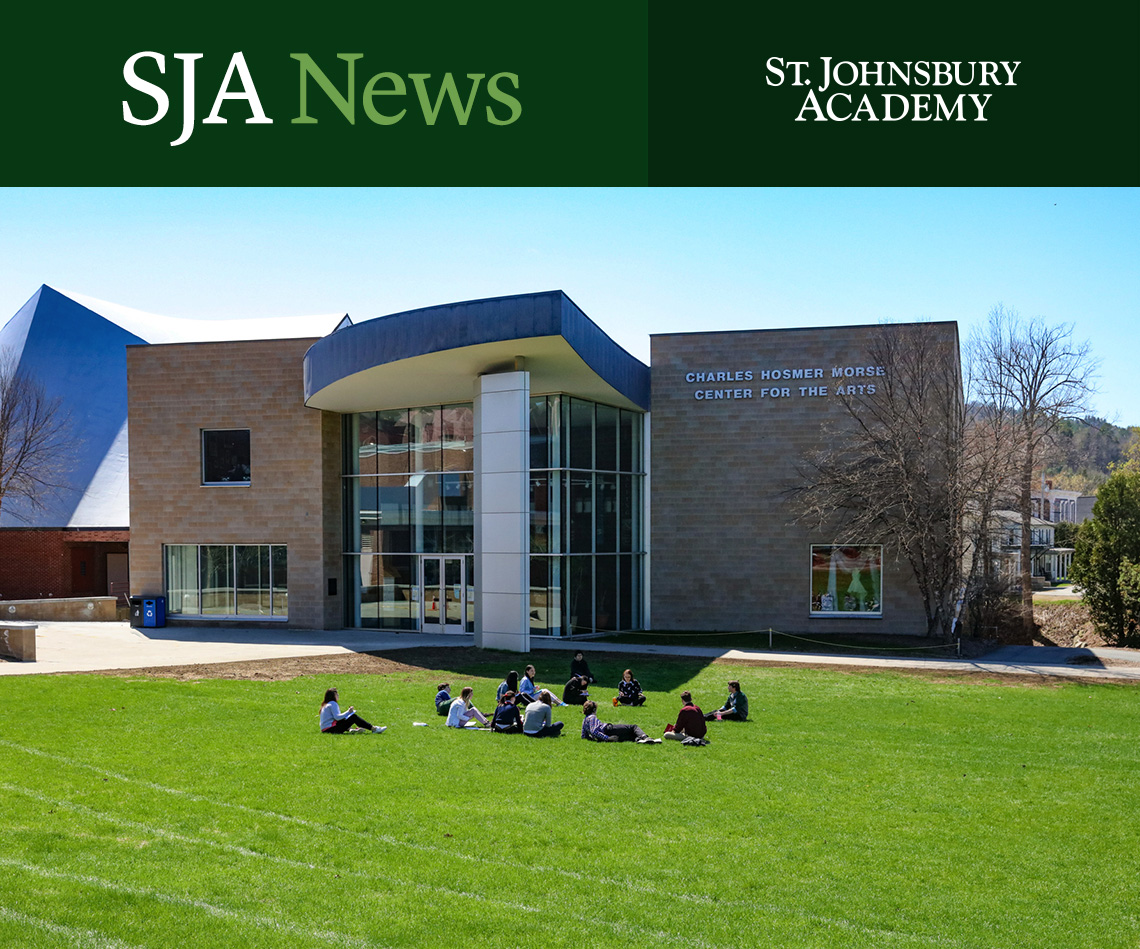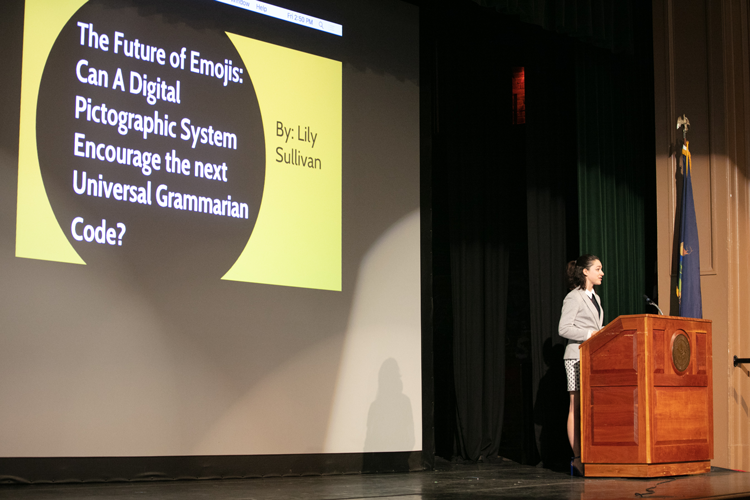 Hurting Heads and Hopeful Hearts: Celebrating Capstone Day
Who knew? Geospatial analysis can help stem the spread of HIV/AIDS in Ghana, and enhanced weathering of olivine can slow the decline of the crustacean population due to ocean acidity. And who knew that discrete element methodology could help design better wheels and grousers for the Mars rovers or that using lexical functional grammar and metonymy, emojis could become a universal pictographic language? These were just some of the things I learned from seniors John Gaston, Ethan Bushey, Annie Cunningham, and Lily Sullivan, respectively, on Capstone Day. Needless to say, by the end of the day, my head hurt.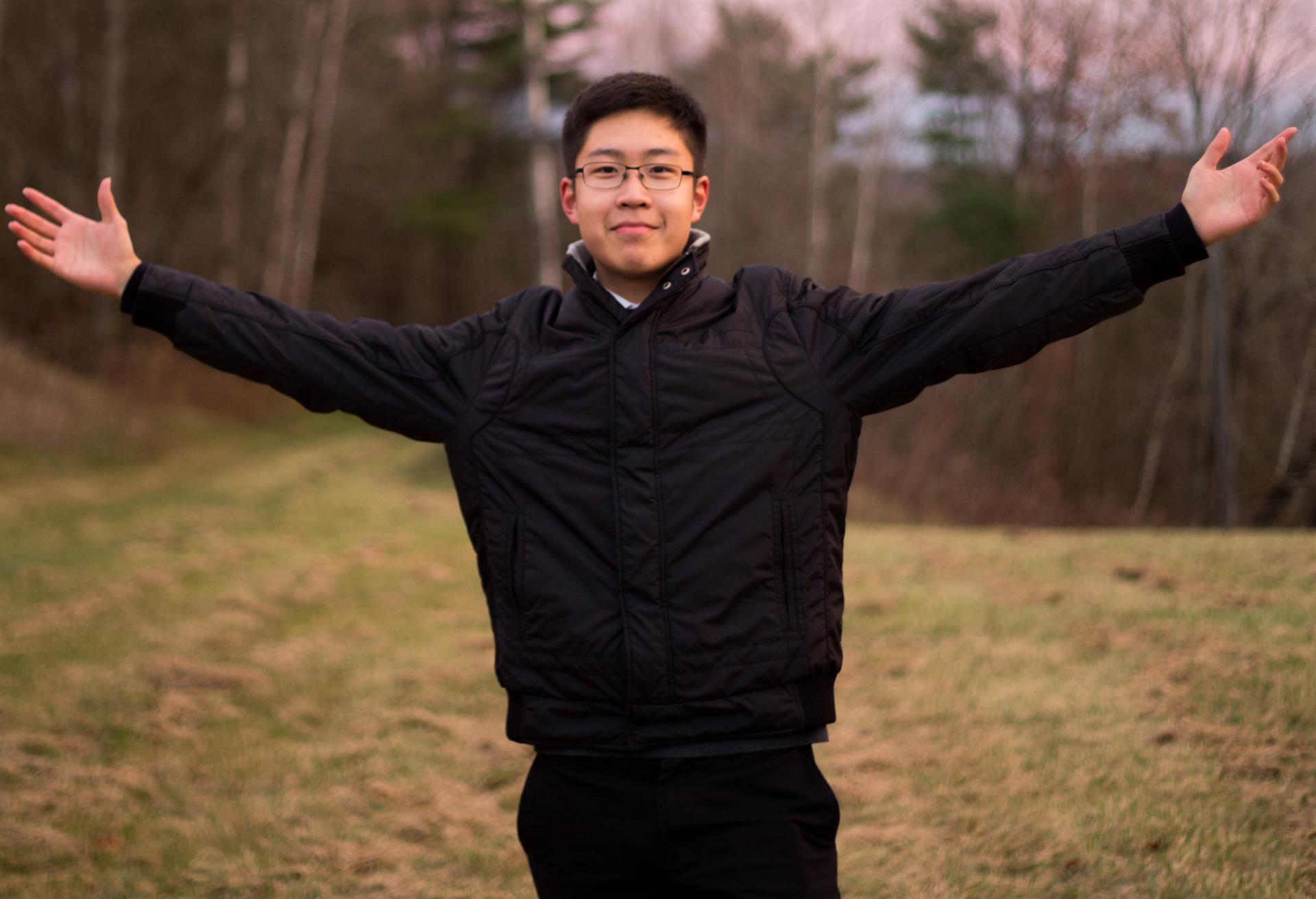 Valedictorian, Co-Salutatorians Announced
The Academy has announced the valedictorian and co-salutatorians for the Class of 2018. 

Monday, May 7-Friday, May 18
AP Exams
Monday, May 14-Tuesday, May 15
8:00 a.m.
Vermont Science Assessment for Vermont Grade 11 only
Chapel begins at 9:20 a.m.
Thursday, May 17 and Friday, May 18 at 7:00 p.m.
Saturday, May 19 at 2:00 p.m.
Fuller Hall
St. Johnsbury Academy Theatre presents Arcadia
Friday, May 18
Spring Day
Monday, May 28
Memorial Day - No School
Wednesday, May 30
1:00 p.m.
Last Chapel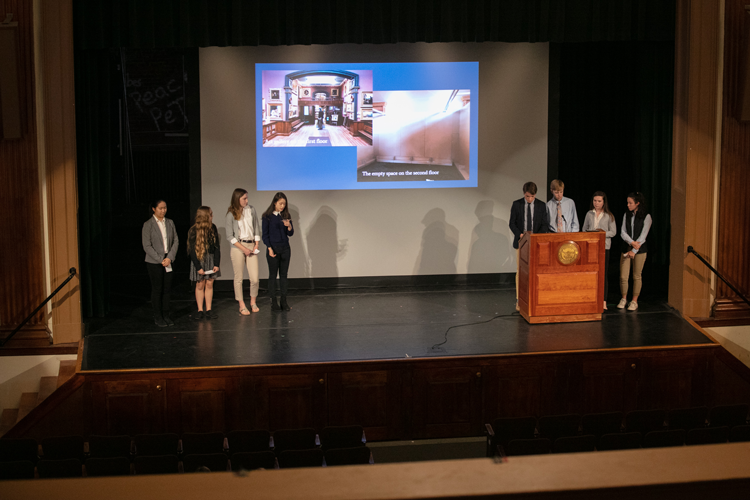 Freshmen presented their Capstone projects on Tuesday.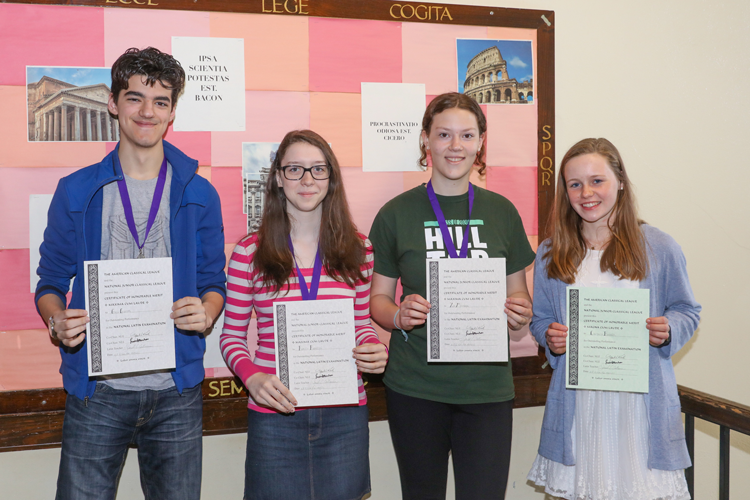 Congratulations to the following students on their success on the 2018 National Latin Exam. Freshman Gavin Ghafoori and junior Rebecca Robertson both earned silver medals on the Latin I exam, sophomore Zoe Montague also earned a silver medal on the Latin II exam, and freshman Constance Hammer earned a certificate of Magna Cum Laude on the Latin III Poetry exam.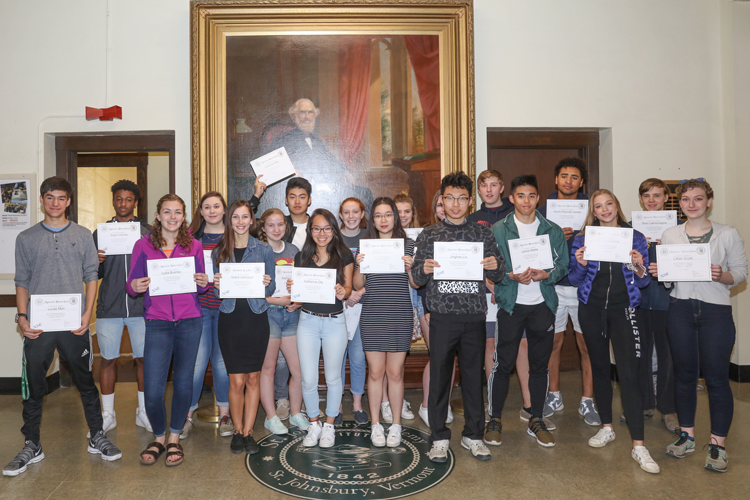 Congratulations to Spanish students who earned certificates on the National Spanish Exam. Pictured left to right are sophomore Lucas Mori, junior Sajan Harvery, sophomore Lydia Bushey, sophomore Averill Wagner, sophomore Grace Larocque, sophomore Sophia Hendrick, senior Kazuma Kato, sophomore Katherine Ota, sophomore Delaney Payeur, junior Zhiying Guan, sophomore Nora Heffernan, sophomore Allison Maher, sophomore James Wood, junior Lance Abella, sophomore Asom Hayman-Jones, junior Sofya Gozhina, sophomore Marc Lamontagne and junior Lilian Scott.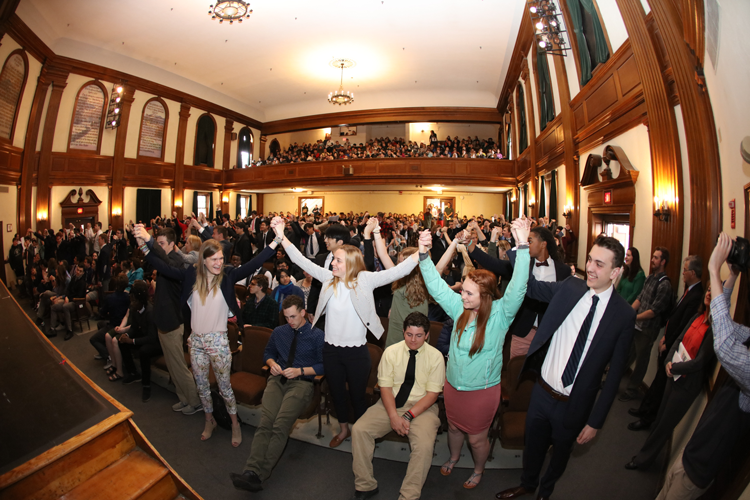 Seniors did the traditional "Capstone" cheer before beginning their presentations.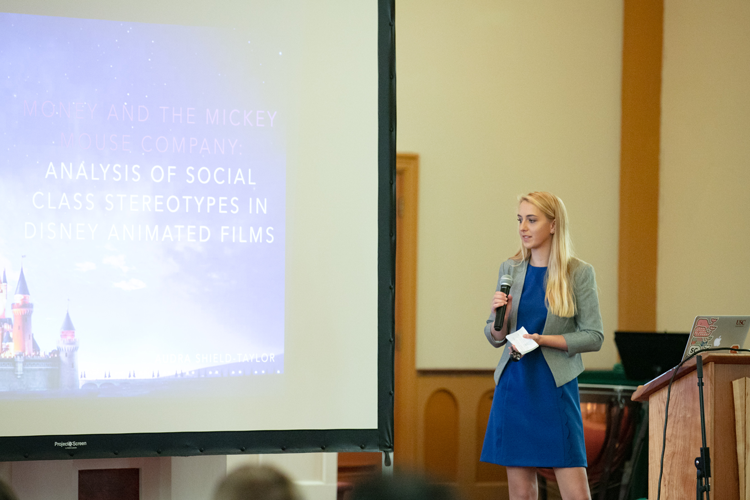 Andra Shield-Taylor presented "Money and the Mickey Mouse Company: an Analysis of Social Class Stereotypes in Disney Animated Films".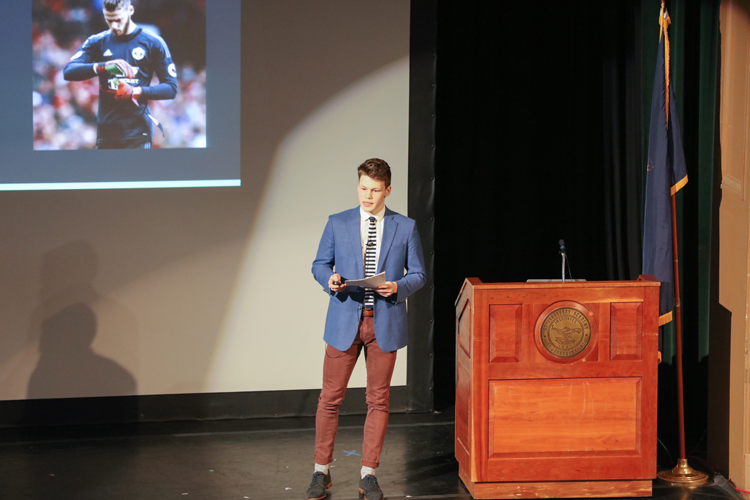 Ben Hammer presented "A Notational Analysis of Goal Scoring Patterns in the English Premier League". Many more photos of Senior Capstone Day are here.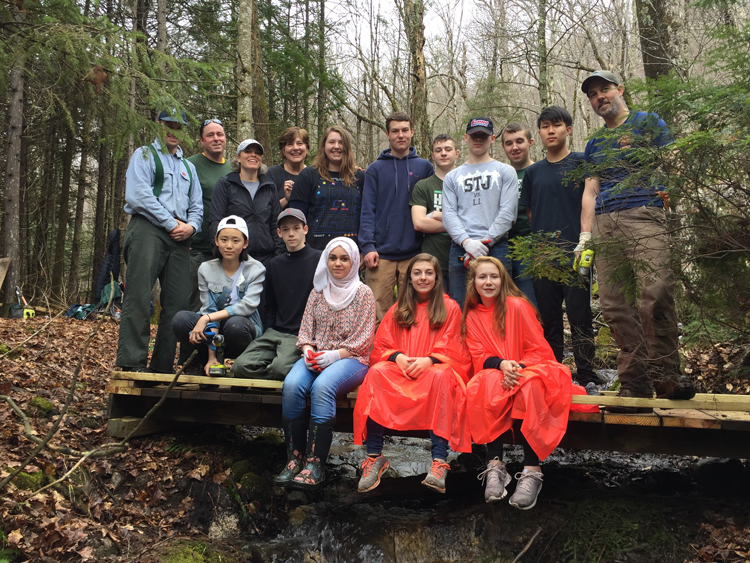 Sophomores took part in Sophomore Stewardship Day, during which they worked on stewardship activities around the area, including building a bridge in Willoughby State Forest.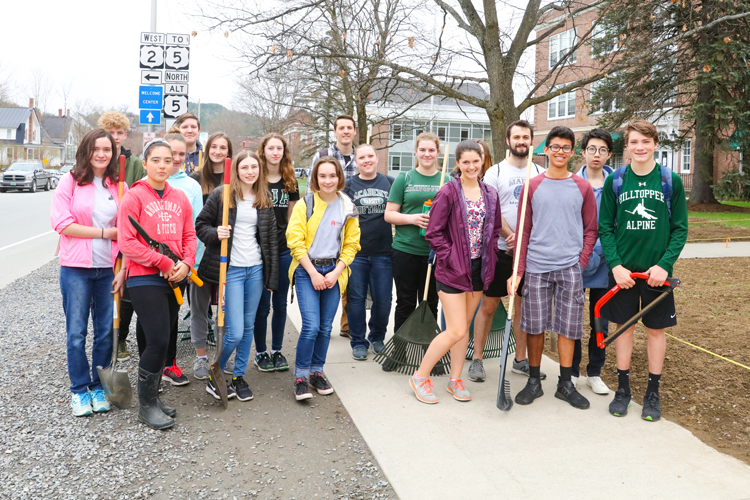 Freshmen participated in Freshmen Challenge Day, taking part in games and beautifying St. Johnsbury. Photos of Freshman Challenge and Sophomore Stewardship Day are here.